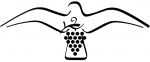 Falcon Vintners Ltd was established in 1995 and is a wine company specializing in supplying its clients with some of the world's best fine and rare wines. Falcon is a stock holder and holds a wide selection of wines from all over Europe and the New World, but has a particularly extensive selection of Italian wine.
The 2019 is brilliant vintage with plenty of purity, depth of fruit and freshness which is sure to make this a classic that will age for many years to come.
Mostly under £25 per bottle!
A good chance to snap up some deals of good value, generally very affordable wines, and in some cases, with a little bit of age. Huge bargains to be had here. Why not stock up for the end of year now! The sale will only last 4 weeks.
I'm pleased to offer the newly released 2020 vintage of Le Pergole Torte from Montevertine. I recently had a dinner featuring the 1986, 1990, 2001 and 2004 vintages which highlighted the pedigree and ageing ability of these wines. This is definitely one to put away for the future.